Modular tank accessories for equipping of the CCTM tanks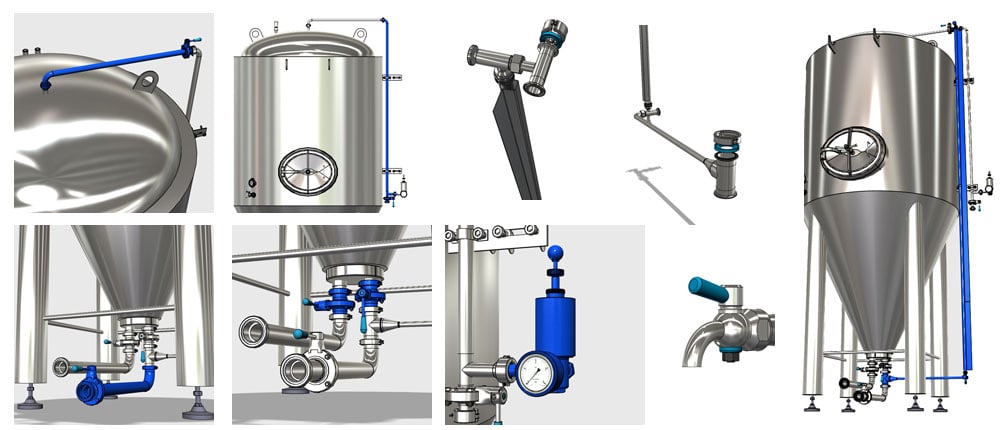 MTA additional armatures are optional accessories for equipping of the basic tanks. The required configuration of the modular tanks is reached by equipping the basic tank with appropriate combination of additional armatures.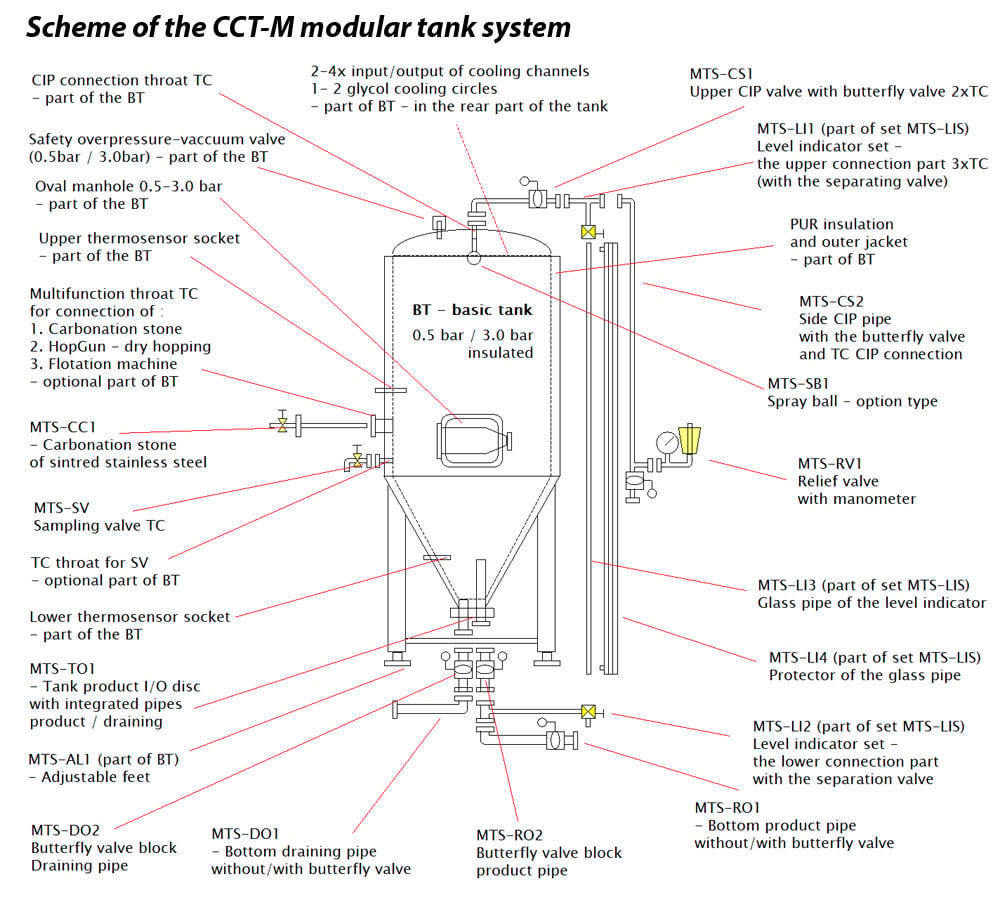 ---
---
CCT-M recommended sets equipment and features comparation table
Comparation table with all recommended sets of the CCT-M modular cylindrical-conical fermentation-maturation tanks. Equipment and features of the recommended configurations.
| CCT-M configuration | A1 | A2 | A3 | B1 | B2 |
| --- | --- | --- | --- | --- | --- |
| EQUIPMENT AND ACCESSORIES | | | | | |
| TO1 : filling and draining disc | FIX | FIX | FIX | FIX | VARIO |
| RO1 : Product pipe without flap valve | - | YES | - | YES | - |
| RO1 : Product pipe with flap valve | - | - | YES | - | YES |
| DO1 : Draining pipe without flap valve | - | YES | - | - | YES |
| DO1 : Draining pipe with flap valve | - | - | YES | - | - |
| RO2 : Clear product flap valve | - | YES | - | - | YES |
| DO2 : Tank draining flap valve | - | YES | - | - | YES |
| SB1 : Sanitizing spray ball FIX | YES | YES | YES | YES | YES |
| CS1 : Upper sanitizing pipe without flap valve | YES | YES | YES | - | - |
| CS1 : Upper sanitizing pipe with flap valve | - | - | - | YES | YES |
| CS2 : Side sanitizing pipe with flap valve | YES | YES | YES | YES | YES |
| RV - Pressure relief valve with manometer | YES | YES | YES | YES | YES |
| LIS : Filling level indicator set - level gauge | - | - | - | YES | YES |
| SV1 : Sample cock with ball valve | YES | YES | YES | YES | YES |
| CC1 : Carbonization candle with porous stone | optional | optional | optional | optional | optional |
| PFH : 3-way product filling pipe for wort | optional | optional | optional | optional | optional |
| LAD – Ladder | optional | optional | optional | optional | optional |
| | | | | | |
| FEATURES & FUNCTIONS | | | | | |
| Primary fermentation without pressure (beer / cider / wine ) | YES | YES | YES | YES | YES |
| Secondary fermentation under pressure (beer / cider / wine ) | 3bar version | 3bar version | 3bar version | 3bar version | 3bar version |
| Carbonization (beer / cider / wine ) | 3bar version | 3bar version | 3bar version | 3bar version | 3bar version |
| Non-izobaric filling of beverage into bottles and kegs | YES | YES | YES | YES | YES |
| Izobaric filling of beverage into bottles and kegs | 3bar version | 3bar version | 3bar version | 3bar version | 3bar version |
| Monitoring of the actual beverage level in the tank | - | - | - | YES | YES |
| Installation / dismounting of the level gauge during operation (the tank is under pressure) | YES | YES | YES | YES | YES |
| Mounting / dismounting the level gauge when there is no beverage in the tank | - | - | - | - | YES |
| Cleaning and sanitizing the level gauge during operation (the tank is under pressure) | - | - | - | YES | YES |
| Cleaning and sanitizing the level gauge when there is no beverage in the tank | - | - | - | - | YES |
| Cleaning and sanitation of RO1 and DO1 armatures during operation (the tank is under pressure) | - | - | - | - | YES |
| Preventing the rotting of yeast in uninsulated parts of the tank | YES | YES | - | - | YES |
| Manual cleaning of the product armature when the tank is full. | YES | YES | - | - | YES |
| Possibility of connecting carbonization stone | 3bar version | 3bar version | 3bar version | 3bar version | 3bar version |
| Possibility connecting the hops extractor | YES | YES | YES | YES | YES |
| Flotation machine can be connected | YES | YES | YES | YES | YES |
| Equipment for the complete beer fermentation process | 3bar version | 3bar version | 3bar version | 3bar version | 3bar version |
| Equipment for the complete cider fermentation process | 3bar version | 3bar version | 3bar version | 3bar version | 3bar version |
| Equipment for the complete wine fermentation process | YES | YES | YES | AYES | YES |
| Equipment for the complete sparkling wine fermentation process | 3bar version | 3bar version | 3bar version | 3bar version | 3bar version |
| Equipment for the complete fruit juice production process | YES | YES | YES | YES | YES |
| Option to change configuration | YES | YES | YES | YES | YES |
---

Price list of CCTM components :
CCTM-BT : Offer for basic tanks of the CCTM system

CCTM-MTA : Offer for accessories and equipment CCTM (this site)
Price list of the CCTM modular tanks in recommended configurations :
---