Wort concentrate – malt extract
… alternative raw material for simplified production of beer
Beer production from traditional ingredients (water, malt, hops and brewer's yeast) is relatively difficult technological processes.
Demands on skills – the exact observance of the beer brewing process and its dependence on many parameters needs significant demands on qualifications and experience brewer.
Demands on human resources – preparation of raw materials, brewhouse operation, monitoring and evaluation of many variables brewing process require concentration and high commitment of the operators.
Time demands – production wort in traditional decoction way takes 10 to 15 hours, depending on the type of beer produced, infusion method takes 6-9 hours.
Energy demands – long brewing process with several complex waveforms temperature is very energy intensive, although lot of energy from the process returns through recovery.
Regular supplies – grain malt and hops have greatly limited expiration date – is necessary to ensure a relatively frequent replenishment of raw materials, which increases operating costs.
Storage demands – for storage malt is necessary to ensure a dry and ventilated area without access to rodents, insects and other animals. It may be in some countries a significant problem. Likewise, the recommended storage hops in cold increases energy requirements of the brewery.
Economic demands – labor costs, energy consumption, high cost of brewhouse, difficult supplies and storage of raw materials, all this means high investment and operating costs.
Many operators of Czech breweries prefer efficiency and economical operation of the brewery instead the traditional production methods. It does not always mean a significant deterioration in the characteristics of the beer. One of the ways how to greatly save the brewery investments cost and its operating costs is simplifying the brewing process and replacing the traditional production technology with production form wort concentrates.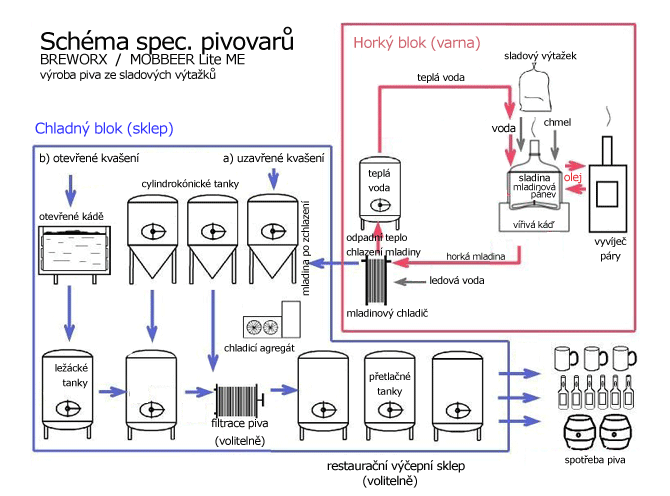 Malt Concentrate – Malt Extract
Malt extract (malt concentrate) made ​​from brewer's wort, which is an intermediate produkt in the first stage of beer production by traditional methods. The wort is ground malt boiled in drinking water, which upon evaporation of the water already sieving at 45 °C leading to a thickening, without damage to the main components of the extract, which is maltose. This is a way of natural wort conservation and production of malt concentrate – malt extract.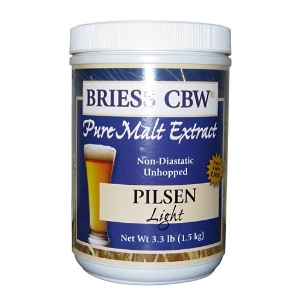 Malt concentrates are produced without the use of chemical additives (extractions agents, artificial enzymes, preservatives, stabilizers, dyes etc.) The wort is produced by infusion or decoction method from different types of malt and drinking water by professional brewer. Used raw materials and the method of making wort determine the type of beer, for which the composition of prepared malt extract is specified.
Usually has honey or powdered consistency and shelf life 6-12 months. It is easy transported and stored with airtight packages.
Brewing from malt extract omit the preparation of wort (which is together with lautering most of the beer production process). Wort is obtained by mixing malt extract in the drinking water and then production continues by hops boiling, adding brewer's yeast and optionally fermentation sugars.
The next phase of beer production (main fermentation and maturation of beer) is continues in standard way in the brewing cellar. Made wort is cooled to fermentation temperature and tranport into open fermentation vats or into cylindrical-tank, where starts the main fermentation of beer.
Be beware – not all malt extracts are prepared according to recipes for the production of beer wort. Many malt extracts are not intended for the production of beer. It is always necessary before buying raw materials to be informed, to what use is determined and how is the wort concentrate prepared. From malt extract, prepared simply by mixing malt with warm water, can not be prepared good beer, because during preparation malt concentrate were not released and converted to the prescribed process, necessary chemical substances.
Breweries producing beer from malt extract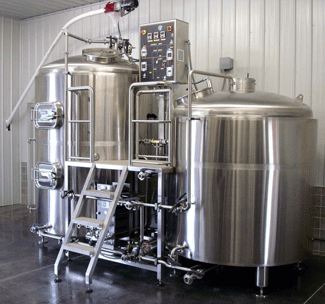 For the production of beer from malt concentrate our company produces two types of breweries with simplified brewing:
– built-in restaurant breweries with a simple technology  brewhouse BREWORX Lite ME for beer production from malt extract
– container breweries with simple technology brewhouse MOBBEER Lite ME for beer production from malt extract