What is
dry hopping

?

Dry hopping is a special operation with cold beer – the saturation of beer by hops essence which is often used in the United Kingdom, Scandinavian, North-American or Australian breweries. The hop is added to the finalized cold beer in beer tank before bottling or directly during the beer tapping process. Originally, this beer treatment method was used in historic times when it was necessary to transport fresh beer on ships across the ocean to remote colonies. Beer saturated with bitter hops was highly resistant to aging even in the hot areas of the equator. The beer treated in this way did stay fresh for a long time even on long overseas routes where modern methods for ensuring the biological stability of beverages such as beer filtration or beer pasteurization were not available.
The special types beer with high bitterness and strong aroma of hops, such as IPA beer, are still produced using this traditional method.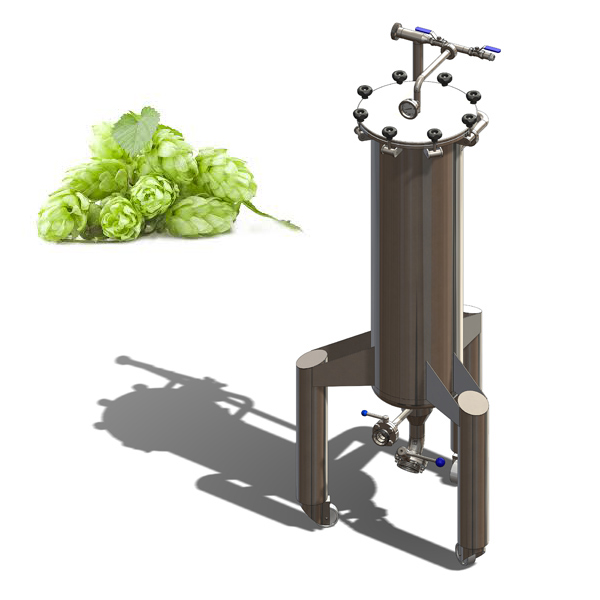 The unique character of the beer is achieved by selection or combination of more varieties of hop and dosing of hops into beer. Dry hopping is used by many craft breweries around the World. For example craft beer flavored using this method participates 6% in the production of beer in USA .
Relatively small amount of hops (about 3050 g / hl) can pleasantly intensify hop aroma in beer. The principe of the dry hopping is slow extraction of hops into cold beer. The aim of this operation is to extract the maximum possible hops flavor into the beer. The higher the alcohol percentage of the beer is, the more effective is the hop extraction, not only of aromatic substances but also bitter.
Extraction of hops in beer is also affected by amount carbon dioxide and other ingredients in the beer. Important requirement is primarily extraction of linalool in the beer – it is the main ingredient of hop aroma. The most often the hop pelletes are used for their very well ability for extraction. Hop pellets creates a large contact area to be easily extracted a hop aroma into beer. Cold hopping is performed usually in a "cold" stage of beer production – in tanks or in barrels, usually after finalizing the fermentation and maturation process of beer in the lager cellar.
For the final flavour it is important how long the hops remain in beer. Optimal time of the extraction depends on individual recipe for choosed beer kind.
Hop extractor

– the special equipment for

dry hopping

of beer

We offer the facility Hop extractor , which is an equipment typically used for extraction of hops into cold finalized beer in many breweries.
Why to use the
Hop extractor

for production of traditional beer like

India Pale Ale

?
Emphasis hop aroma in finished beer
Sensitive and careful dissolution of hop pellets (type 45 and 90) in the cold beer
Optimum extraction and increasing the proportion of essential oils into the finished beer
Fixed period of hop extraction (time of the contact with the beer)
It works without heating of beer and without stirrers – it does not influence the beer quality
Excellent separation of the extracted substances from hops – it does not cause problems during filtration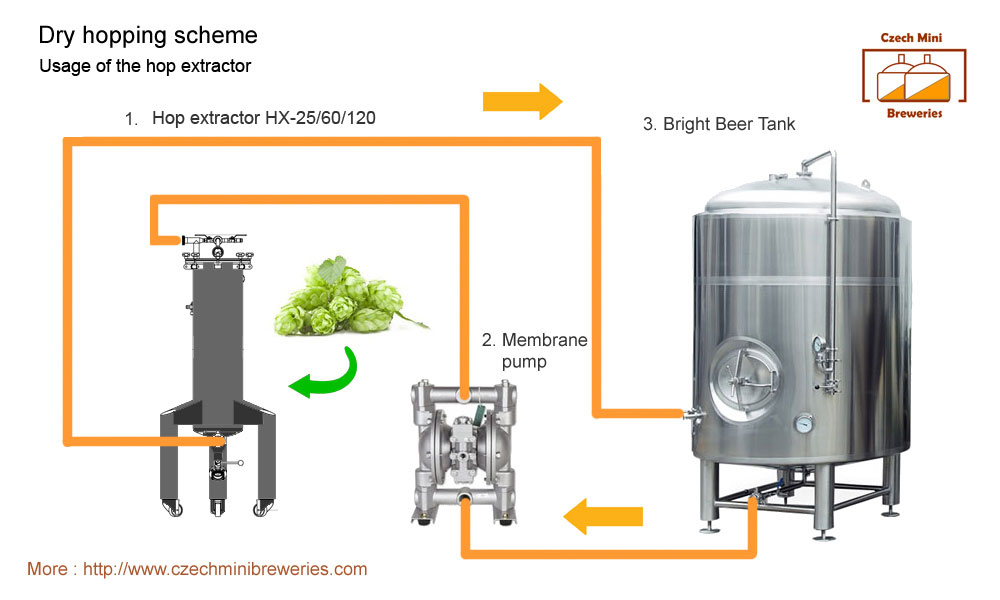 ---
Our offer of equipment
Hop extractor

for

dry hopping

beer:
Price: 5 850 €

"HOP EXTRACTOR" - Dry hopping tank  - is an equipment for extraction of aromatic active substances from hops into cold beer

Price: 11 700 €

"HOP EXTRACTOR" - Dry hopping tank  - is an equipment for extraction of aromatic active substances from hops into cold

Price: 8 670 €

"HOP EXTRACTOR" - Dry hopping tank  - is an equipment for extraction of aromatic active substances from hops into cold
---
Complete solution for the
cold hopping

– the extraction of hops in cold beer:

We also offer fully-equipped sets for Dry hopping / Cold hopping . Each kit contains one beer storage tank and all other equipment needed to prepare Pale Ale, IPA beer etc.
---