What is dry hopping ?
Dry hopping is part of the beer production process which is often used in the United Kingdom, Scandinavian, North-American or Australian breweries. The hop is added to the finalized cold beer in beer tank before bottling or directly during the beer tapping process.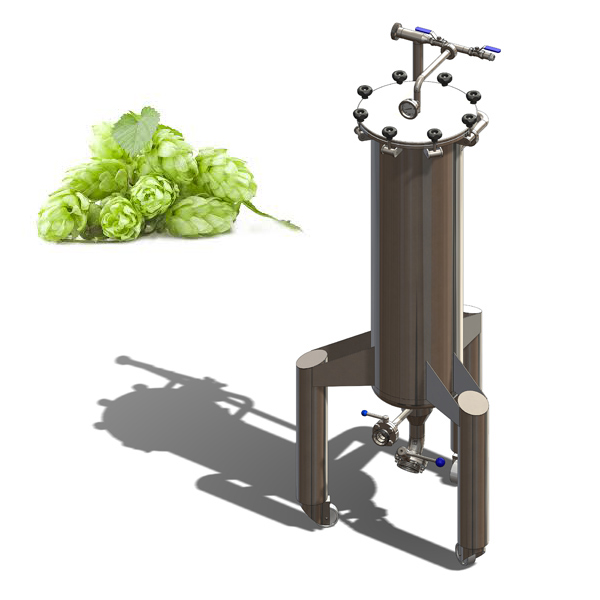 The unique character of the beer is achieved by selection or combination of varieties and dosing of hops. Dry hopping uses such as Craft, which participates 6% in the production of beer in US .
For instance Craft, which participates just with 6 % in the production of beer in US, uses 30 % total production. However, relatively small amount of hops (about 3050 g / hl) can pleasantly intensify hop aroma in beer. While integrating dry hopping into the brewing process it is needed to do so regularly and if possible simply.
The principle of dry hopping is cold extraction of hops. There are several options how to extract hop to cold beer, during which several various factors are taken into consideration. The goal of the dry hopping is to extract optimal amount of hops aroma into the beer. The higher the alcohol percentage of the beer is, the better is the hop extraction – not aromatic substances (more substances naturally extracted using higher temperatures).
Extraction of hops in beer is also affected by CO2 and other ingredients in the beer. Important issue is primarily extraction of linolool in the beer – the main  ingredient of hop aroma. The hop pelletes are usually used for hop extraction. Hop pellets creates a large contact area to be extracted. Cold hopping is performed in a "cold" stage of beer production. It is performed in tanks or barrels, usually after fermentation, or in the lager cellar.
For the final flavour it is important how long the hops remain in beer.
Hop Gun – equipment for dry hopping of beer
We offer the facility Hop Gun, which is typically used for hopping cold finalized beer in many breweries.
Why to use the hop gun for production of dry hopping beer ?
Emphasis hop aroma in finished beer
Sensitive and careful dissolution of hop pellets (type 45 and 90) in the cold beer
Optimum extraction and increasing the proportion of essential oils into the finished beer
Fixed period of hop extraction (time of the contact with the beer)
Without heating or stirrers – does not influence the beer quality
Excellent separation of the extracted substances – it does not cause problems during filtration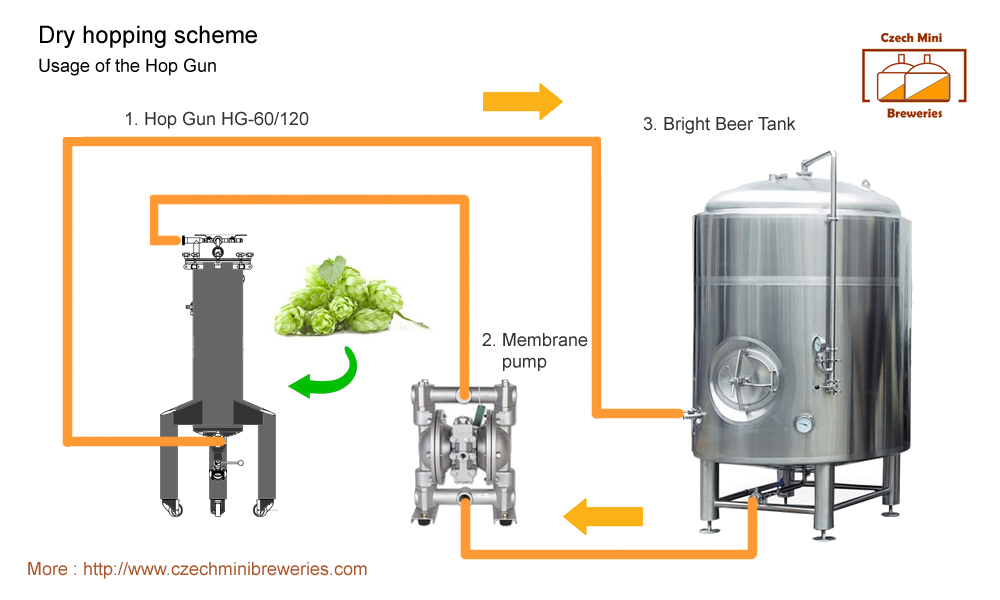 ---
Our offer of equipment Hop Gun for dry hopping beer:
Price: 5 851 €

Hop gun - Process of dry hops - is an equipment for extraction of aromatic active substances from hops into cold beer

Price: 8 670 €

Hop gun - Process of dry hops - is an equipment for extraction of aromatic active substances from hops into cold beer

Price: 11 700 €

Hop gun - Process of dry hops - is an equipment for extraction of aromatic active substances from hops into cold beer