BFA-100 / BFA-150 : Equipment for semiautomatic filling of the bottles (from 100 to 150 liters per hour)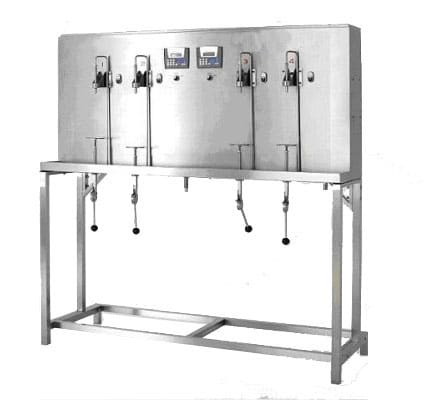 Filling machines for beer BFA-100 / BFA-150 are intended for bottling beer in glass or PET bottles. They are available in two models of fillers:
BFA-100 … two filling heads – performance to 100 liters of beer per hour
BFA-150 … four filling heads – performance to 150 liters of beer per hour
The actual capacity of the filler depends on the size of filled bottles and the organization of work with preparing and removing bottles.
Description of the equipment :
There are integrated two separate and independent systems in the support panel. Each system is equipped with 1-2 filling valves. Each filling valve usable for filling a different kind and the amount of beer.
Each system has its own control unit and control panel. Performance of the filler depends in particular on the capacity of cooling and ambient temperature.
It is necessary to put filler in environments with temperatures up to 25 oC. The temperature of the beer tank should be at max. 8 ° C at the inlet to the cooler. Aftercooler that we supply with the filler kits can secure to fill with capacity of 240 to 600 bottles 0,5 l per hour.
Fillers BFA and BFA-100-150 are suitable as accessories for small brewers and bottlers of beverages in glass or PET bottles.
---