Build your own hybrid microbrewery MOBBEER & BREWORX
We offer hybrid microbreweries MOBBEER / BREWORX as a modular solution , placed in a 1 to a few containers with standardized dimensions 1CC 6058 x 2438 x 2591 mm and 1AAA – 12192 x 2438 mm x 2.896 mm depending on the particular type of brewery.
Our production program includes the following core modules MOBBEER , built- in container box:
Brewhouse MOBBEER B – the basis of the brewery with a capacity of one batch of wort 150, 250 , 300, 500 liters
Primary storage cellar MOBBEER C – a cold block with fermenting lager tanks with a capacity by schedulled productivity of the brewery.
Secondary storage cellar MOBBEER C – for increase the capacity of primary storage cellar block by future increasing of beer production.
Restaurant – fully equipped restaurant with a selected number of seats for guests. Includes a bar , bathroom (toilet , shower room ) , optionally also includes kitchen and facilities for staff .
Technology background – warehouse for filled and empty barrels, storage of raw materials, bathroom with toilet and shower, dressing room , facilities for staff or other optional equipment.
The possible variations are many. We can supply the whole microbrewery completely integrated into the container blocks. Or we can deliver containers in a separate cooking or cold block . Remainder minibrewery may be located inside an adjacent stationary object , most restaurants .
Examples of layout microbreweries with container blocks MOBBEER
Examples of possible solutions microbrewery with technological container blocks MOBBEER, located next to the restaurant: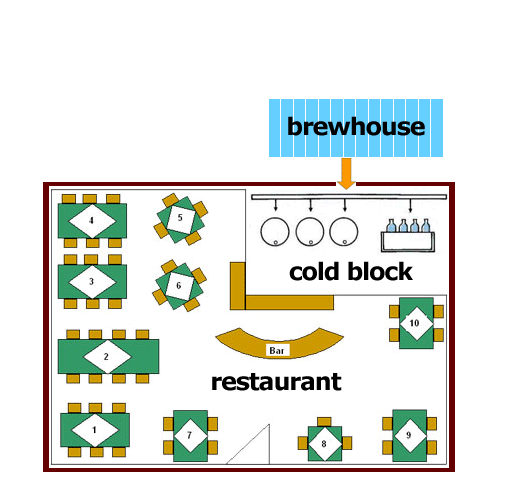 Layout 1 (container brewery + chilled block inside building)
This basic, most commonly used arrangement allows to use a building with a restaurant for the location of the fermenters and storage tanks.
The hot block of brewery (brewhouse, malt mill, steam generator)  is located outside the restaurant in container cabinet.
The advantage of this arrangement is independent brewhouse, which can be moved at any time to other location.
In the future it is possible to replace the brewhouse container by the larger brewhouse model. In this case, there is not problem sell the original mobile brewhouse to another owner, or move it to another restaurant of the same owner.
---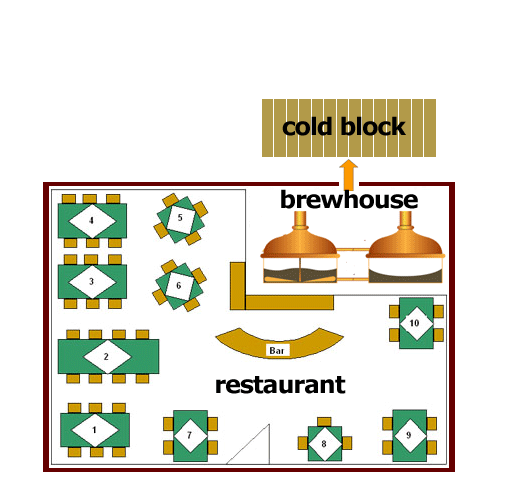 Layout 2 (container cold block + brewhouse inside building)
Arrangement of microbrewery with a hot block placed inside the building.  A cold block is placed in the external container. This solution is advantageous where the operator plans to increase future sales of beer and wants to create a space for future expansion of the brewery capacity by adding additional container modules with lager cellars .
The solution is also useful in installations where is not enough internal space to accommodate the entire brewery, but the operator wishes to have a brewery in the eyes of the guests, or at the same time serve the guests in the restaurant, while he brews a beer.
For presentation the brewhouse as an integral part of the restaurant, we recommend the version in design with a copper jacket and hats. Higher investment is balanced with more attractive restaurant. Guests can admire the beauty of brewing technology and beer consumption observed during the brewer at work.
---
Layout 3 (container cold block + container brewhouse …. serial layout)
The most flexible solution container microbrewery , guarantees full independence of the microbrewery at a particular restaurant.
If you do not want to bind yourself to a specific building, your plans are to sell the restaurant, you are not the owner of the building, you are operating another business in the summer (such as the public pool) and other in winter (ski resorts), or you just do not have in the restaurant building enough space for location brewing technology, then the mobile brewery is the right solutions for you. Without construction impacts to the object you can own and operate a brewery from day to day and just as quickly it can be sold to another operator, in case you would have any reason or you will just get tired of brewing.
The capacity of the brewery can be expanded at any time by purchasing an additional module of lager cellar, or possibly exchange for larger brewhouse model. The arrangement of containers in a row is suitable for locations where it is more space length than width. Layout containers side by side will prefer, those operators who have enough space on they land and want a more compact solution. The technical solution of container modules allows interconnection for brewhouse and storage cellar in both possible ways.
---
Layout 4 (container cold block + container brewhouse … paralel layout)
---
Layout 5 (2 x container cold block + 1x container brewhouse)
Flexibility demonstration of mobile container modules. Without any interference to the restaurant, it is possible to expand production capacity by increasing the production, by purchasing a secondary module with lager cellar. Although it may seem a major increase in the brewery to novice operators as a very distant future, it is good to think about this possibility in advance. The experience of this kind of business clearly shows that most new operators, no later than in 3 years from starting brewing, solves the problem of insufficient capacity of the brewery. This age is about home brew and good reputation of a small breweries is spread very fast … what is related with shortage of beer in the summer months. Think ahead and book a place for the module of secondary storage cellar. At the same time, purchase brewhouse with higher performance – brewing with larger brewhouse less beer is not a problem but with small brewhouse brewing 10 shifts a week is not possible.
---
Layout 6 (2x container cold block +  brewhouse inside building)
Advantages of flexibility mobile container modules microbreweries MOBBEER are usefull for operators, which count with integrating of the brewhouse directly into the restaurant or to other rooms in the building. It is cheaper to start with a smaller capacity of the storage cellar, but it is always better dimensioned brewhouse capacity for possible increase of beer production for the near future.  Then nothing is easier than with sales increase to add other modules of storage cellars and increase capacity of the brewery flexibly without worrying about restaurant building. It is also possible to reduce number of storage cellar containers by selling it later.
---
Layout 7 (1. cold block inside building + 2. container cold block + container brewhouse)
This is typical modular solution microbrewery where operator has decided to install the technology for fermentation beer into restaurant, but for brewhouse has not left space in the building, or space renovation where to difficult and he chose mobile container solution brewhouse MOBBEER. Later the capacity of the lager cellar in restaurant ceased to suffice the growing consumer interest of home beer and space for other fermentation tanks was not longer in the bulding. Fortunately, modular solutions microbrewery MOBBEER counts with this case too, so the operator of restaurant needs to buy another module of container storage cellar and increase the capacity of the brewery from day to day without the need for building reconstraction.
---