Specifications : technological equipment of the microbrewery MOBBEER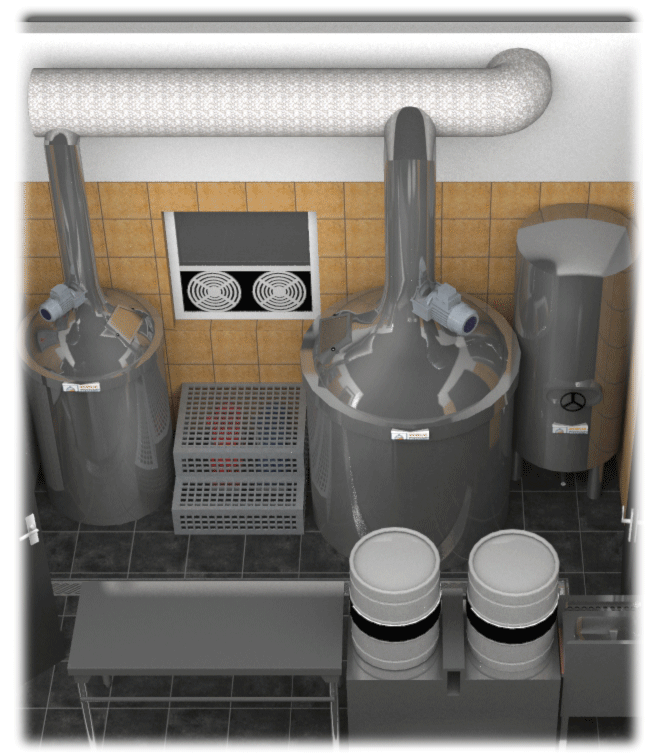 Design  of a brewhouse – based on the design of the brewhouse BREWORX Classic Natural S ( brewing from traditional ingredients ) , respectively BREWORX Lite Natural S ( for brewing from malt extract). Two-pot brewhouse contains a mash tun and a lauter tun . The mash tun does not include an agitator , mixing of wort is provided by wort pump. Mash tun is lower than the brewhouse Classic has , it works as a whirlpool too. Heating of the brewhouse is provided by electric steam generator , optional gas steam generator .
Design of vessels for the main fermentation and maturation – the dimensions of the vesselss are designed to be placed in the container space. At the same time leave sufficient space around the vessels.
Cooling of the microbrewery – a cold block microbrewery MOBBEER is chilled by the air space ( single-shell tanks ) or glycol ( insulated double-walled tanks ) . Open fermentation vats are chilled glycol or ice water . Cooling of the wort is done by two-stage plate cooler – the first stage is cooled by cold drinking water, the second stage by additional cooling glycol .
Distribution of beer for consumption – by the beer line to the restaurant ( tapping out tanks) or in a beer containers ( kegs , Petainer , PET bottles ) into the sales networks.
Requirements for preparing to install the microbrewery MOBBEER:
4 concrete footings at the corners of a container or a flat surface (concrete, asphalt, gravel)
Prepared connection to the isolated supply of drinking water , sanitation and beer journey at a specified place the container ..
Electric cable 3x 400V / 50Hz ( or according to different local electric system ) with independent fused according to the requirements of the brewery ( 30-80 kW)
Storage space for raw materials in the vicinity of the microbrewery – can also be supplied as a separate unit container .
We recommend: shaded place or additionally built a shelter from direct sunlight (such as covered parking space for cars)
---
Overview and price list – All produced types of microbreweries MOBBEER
(PLEASE WAIT – loading of the pricelist may take a few seconds … )