For most demanding customers we offer individually designed breweries and historically faithful reconstruction of older breweries. The original design, unique technology, high quality design, but also the efficiency of operation of a modern management system.
Breweries & Microbreweries BREWORX ORIGINAL
At the customer's request, we can design a minibrewery what conceptually fits into any space. A typical example are small breweries built in a historically valuable space, which in addition to the full functionality of a modern control must meet demanding requirements for historically faithful appearance (visual elements of hammered copper, accurate reproductions of old pipe connections and controls, etc.). Another

example might be, the requirement on the hot glass with transparent plastic, enamel brewhouse, lager wooden barrels and other non-standard applications.
The original microbreweries & breweries from this series are always handled individually by interview with the client to understand the intended concept, variable designs, final implementation, including related interior and exterior work. Design series interior restaurant minibreweries BREWORX, with an emphasis on luxury interior design original brewhouses while maintaining excellent functionality and simple use of the brewery.
The basis of the microbrewery BREWORX ORIGINAL is brewhouse made ​​of high quality stainless steel for
food industry. Jacket, top and steamers are made most often in shiny, matte, or hammered copper combined with brass, or from materials that respect the urban style of an object or a special customer. Brewhouse can contain a number of valuable design elements, or it can be made ​​according  to historical drawings or photographs.
The delivery may contain other elements of restaurant design, united with look of the brewhouse, such as the draft stands, bar, service or showing platforms, etc.
Typical characteristics of microbrewery BREWORX ORIGINAL
Original Design – premium processing brewhouse from quality materials perfectly fits into the concept of object
High Quality Materials – all parts that come into contact with food are made of high quality stainless steel for food industry of European origin, possibly from other high-grade materials, which do not change the characteristics of beer
Luxury Design – the production breweries consistently pay attention to quality work and we put the same claims as in the manufacture of pharmaceutical equipment. If required by the character of the device and the desired design, manufacture of some parts its in traditional manual process using years of our experience with art metal work.
Individual Approach – all the components of the brewery are designed individually, or combined original and standard components, all customized
Modern or historically correct equipment – and historically faithful copy of the old brewery can be controlled with modern computer technology, or with traditional manual operation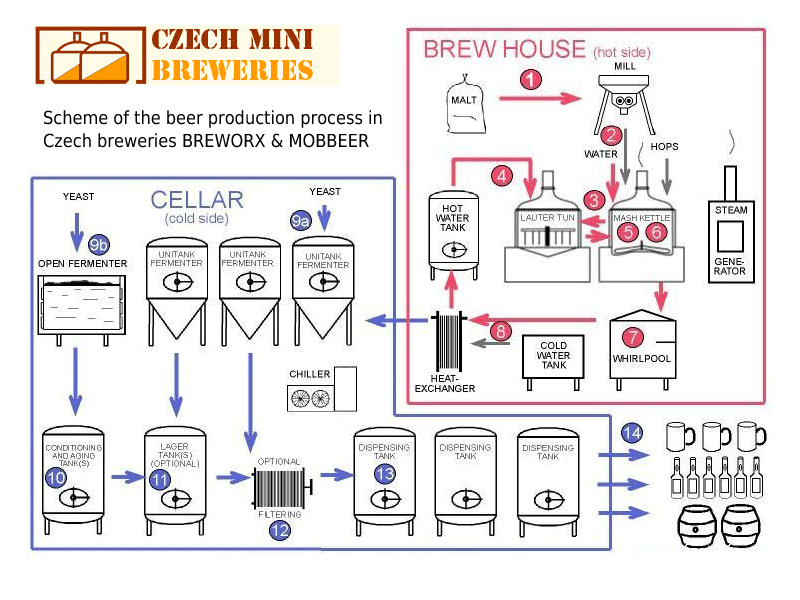 Individual solution for breweries BREWORX ORIGINAL
List of models minibrewery BREWORX ORIGINAL is not available. All minibreweries BREWORX ORIGINAL are designed and quote individually on careful analysis of the customer's intent.
Technical specifications of breweries BREWORX ORIGINAL
… brewery equipment is determined based on the project prepared for the customer. Microbrewery BREWORX ORIGINAL can be assembled from the following components:
Brewhouse – two or more vessels, made from stainless steel for food industry, top and steamers are made ​​from polished copper or other suitable materials individually agreed.
Steam generator – producing steam for heating the brewhouse, but also for quick sanitation of the pipe transfers.
Control system – manual, central or semi automatic control of the brewing process and the brewery cellar – significantly simplify and streamline the beer production.
Open fermenters – open double-jacket vessels with duplicators for main wort fermentation, which is changed to young beer.
Maturation / Lager tanks – closed singel or double jacket vessels, used for fermentation or maturation of beer.
Cylindro-conical fermentation tanks – modern insulated closed vessels used for main fermentation or maturation of beer.
Serving tanks – closed single or double jacket cooled pressure vessels, from which the beer is draft into kegs or to the bar.
Hot water tank – used to store hot water heated during wort cooling, heating cold water and its pressure distribution within the brewery.
Ice water tank – used to store ice water or glycol, for cooling the wort after the brewing process or cooling duplicators in the vessels.
Malt mill – used for milling malted grain for brewing process.
Weight – used for accurately weighed dose of malt and hops before brewing process.
Cooling unit – water cooler with heat exchanger using ice water or glycol.
Cooling medium storage tank  – storing glycol or ice water for cooling tanks equipped with duplicators.
Cold air generator – cooling unit for cooling the air in the lager room.
Wort cooler – plate cooler used for two-level wort cooling on output from the brewhouse before the main fermentation.
Wort aerator – aerator candle is used to start the fermentation process in the wort after chilling.
Air Compressor – producing compressed air for moving pneumatic flaps in the brewhouse, pushing the beer to the tanks and wort aeration. It has three filters for bacteriological sterilization of air.
Yeast storage tank – device for washing and storing yeast.
KEG filling machine – special adapter for filling empty kegs of beer.
KEG washing machine – manually operated device for washing and sanitizing kegs.
Optional equipment for minibreweries BREWORX ORIGINAL
Water treatment plant – in the case of undesirable composition of drinking water, it can be change by chemical and physical processes.
Copper, stainless or brass jacket for brewhouse – design evaluation of brewhouse ensure more luxurious look for indoor use.
Cooling tanks by duplicators  –  bigger comfort brewmaster, lower power consumption, easier management of cooling.
CIP sanitation station – sanitation unit for washing and sanitizing vessels.
Automatic KEG washing and filling machine – automatic KEG washing, filling and sanitizing machine.
Yeast propagation station – equipment for long-term cultivation strains of fresh yeast.
Filtration beer – primary and secondary filters for removing yeast from the produced beer to increase its expiration date.
Pasteurization beer – equipment for low-temperature pasteurization of beer in order to extend expiration date and beer resistance.
Tapping equipment – beer dispensers with tapping cocks, beer lines, draft beer cooling.
Bottles and small casks filling machines – filling machines for small casks, PET and glass bottles including pressurizing and closing.
WWTP – wastewater treatment plant to for breweries without drain