Classic pub/restaurant microbreweries BREWORX made in Czech republic, built-in solid objects are proven manufacturing equipment, enabling production of all the world's known beers by infusion or decoction method. Easy become a popular center of your restaurant and give guests an exceptional experience of drinking beer right in the place of brewing production.
BREWORX – restaurant micro breweries
Breweries BREWORX, produced by Czech company Mobilní pivovary s.r.o., are made with all modern methods and premium quality steel for food industry exclusively of European origin. It enables the production of traditional Czech type of beer, but also any other types of world beers made by decoction or infusion method. The design allows production of the bottom and top fermented beers in modern way of fermentation and maturation in a closed pressure cylindrical-conical tanks or in open fermentation vats and maturation (lager) tanks.
Typical applications are minibreweries built into restaurant buildings, guest houses, hotels, as well as individual buildings whose owners are interested in a small brewery.

By selecting a suitable combination of raw materials and production processes it is possible to produce light, half-dark, dark, wheat beers a types as stout, ale, pale ale, white beer, and many other beers by Czech and foreign recipes.
Types of micro breweries BREWORX: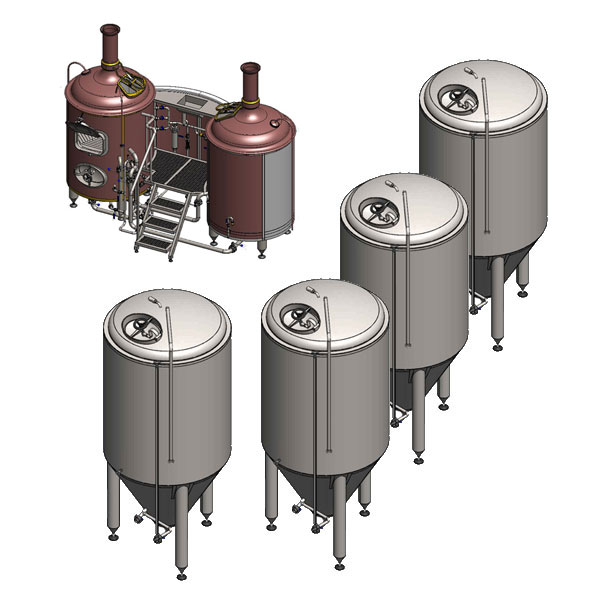 Basic type of pub brewery BREWORX, which is intended for the broadest range of customers. Construction, technological design and simple operation of the brewhouse BREWORX CLASSIC satisfy the most demanding requirements of experienced and novice brewmasters. Additional equipment for BREWORX CLASSIC allows to configure fullfeatured
brewery with an lowest possible cost, suitable for a small restaurant, but also for a small or medium sized brewery focused to distribution. Minibrewery BREWORX CLASSIC, purchased in minimum configuration can be expanded to other tanks, filtration, washer / keg filling machine, bottle filling machines, promotional station, nitrogen generator, CIP, heat recovery steam condensator and other accessories at any time later. Possibility and production capacity of micro brewery can growth with the successfully developing business.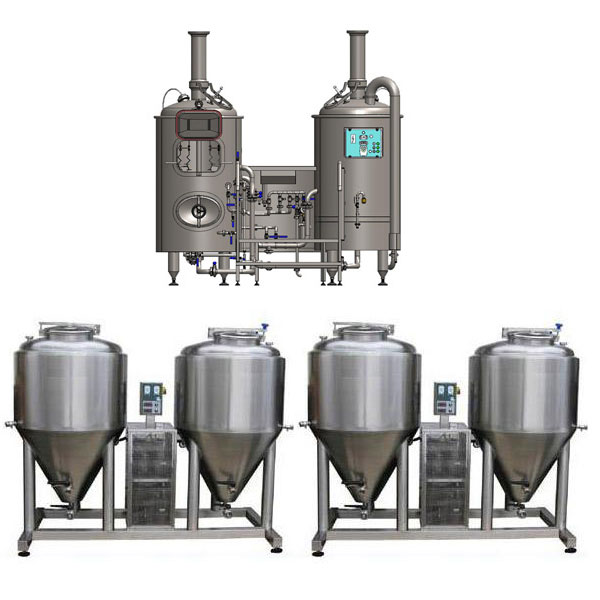 Special series of modular Microbrewery BREWORX, following in the first place requirements for construction simplicity and easy extention of a restaurant microbrewery. Microbreweries MODULO are designed as a building kit which the customer buys himself and assemblies in space designated for the operation of the brewery. The concept eliminates a number of financial, organizational and time-consuming steps that make microbreweries of a classic concept unaffordable for most restaurant operators. Above all, there is no need of design, construction and professional installation work.
When you are installing and assembling the brewery Modulo, it is not necessary to tear down walls, drill through masonry, etc.., the microbrewery remains easily demountable and relocatable. It also has a positive impact on the possibility of the financing investment through leasing or finance loans, because the technology of the microbrewery does not need any changes in the construction of the building and therefore can be used as a collateral.
A variant with the brewhouse Modulo Classic allows to produce beer from traditional ingredients, namely grain malt, water, hops and brewer's yeast. A variant with the brewhouse Modulo Lite-ME is designed for a simplified beer production from concentrates. Microbreweries Breworx MODULO are suitable for both novice brewers, as well as for professional brewing operators.
Microbrewery Breworx MODULO in a basic fully functional configuration includes only a brewhouse, fermentation and maturation units, a unit for cooling of the wort, a malt shredder, a sanitation pump and an air compressor. It can be expanded by further fermentation units, as well as other functional modules, such as CIP, a yeast propagation station, filters, transfer tanks, washers and fillers of kegs and bottles, etc.. Significant advantage is mutual backup of cooling units when the operation of the brewery does not need to stop due to a fault on a cooling system.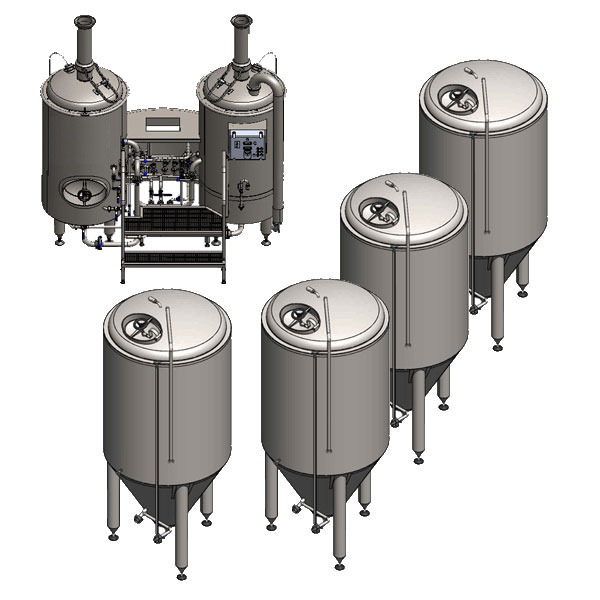 Simplified brewhouse, allows to brew all kinds of beer from beer concentrates.
Beer concentrates are basically food products for easier preparation of beer wort, whose common features are easy storability, simple and rapid preparation of wort due to skipping demanding stages of the cooking process, low energy requirements, high stability of the quality of the final product. All without a noticeable difference in the sensory properties of the produced beer in comparison with traditional methods of wort preparation from traditional raw materials. With these characteristics, the operator of "concentrate" minibrewery obtain many other benefits.
Minibreweries BREWORX LITE are produced in two types:
– minibrewery optimized for beer production from malt extracts
– minibrewery optimized for beer production from wort concentrates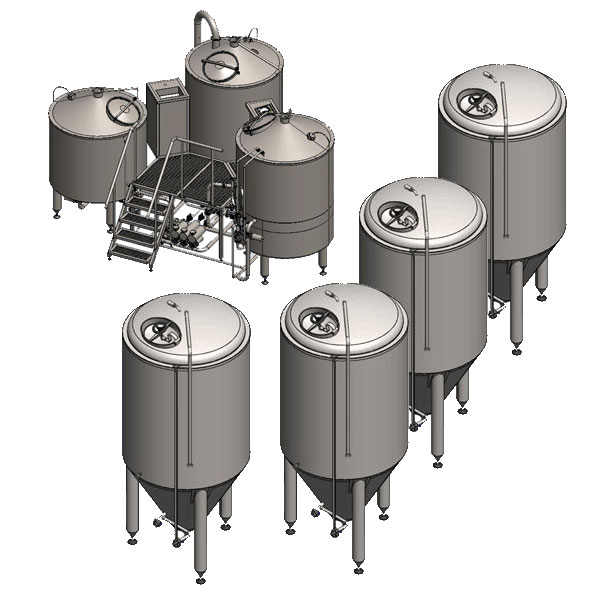 It is ideal solution for micro brewery owners that have enough open space. Compact design contain service platform, mash tun, lauter tun, whirlpool, hot water tank and cold water tank, and of course the laboratory sink with sample cooler, pump, plate wort and cold water cooler, aeration candle and brewhouse piping. With easy serviceability of all vessels from a single platform the brewmaster has the technology constantly under control, without the need of frequent movement in the brewery. The small distance between the brewing and support vessels helps to minimize heat escaped and efficient recovery. Design BREWORX COMPACT allows the production all known types of beers according to Czech and foreign recipes, from traditional raw materials (malt, hops, water and yeast), infusion and decoction method.
Why choose just micro brewery BREWORX ?
The main advantages of our pub micro brewery BREWORX :
Maximum production efficiency – low production costs permit to sell beer for lower price with higher profitability
Space-saving – our minibreweries can be integrated into a confined space of existing buildings
Low labor intensive – a large part of the production can control automatic system, but we also offer cheaper manually operated minibrewery
Easy to use – breweries are designed by a qualified engineers according to the needs and experiences of professional brewers
Long life – all parts that come into contact with food are made of high quality stainless steel for food industry exclusively of European origin
Quality  – all our minibreweries are manufactured to exacting procedures, common for pharmaceutical equipment
Low Cost – the prices of basic models are available also for customers who have small initial funds