Construction of brewhouse BREWORX LITE WC
… allows the production of several types of beer depending on the type of wort concentrate. The construction of the brewhouse Breworx Lite WC does not allow beer production from traditional raw materials or malt extract. Currently we supply mainly wort concentrate for the production of bottom-fermented lager, a typical Czech beer. We are able to supply a special concentrates for the production of wheat beer (in Germany known as Hefe Weizenbier), dark beer, or specially flavored types of beer.
The maximum brew volume of the brewhouse is up to 12 batches per 24 hours.
By default, we produce the brewhouse Breworx LiteWC only in stainless steel technology version.
A typical feature of microbreweries BREWORX LITE WC is a one-pot brewhouse, consists from the common frame,  wort mixer, wort chiller and a control panel.
Scheme of the brewhouse BREWORX LITE WC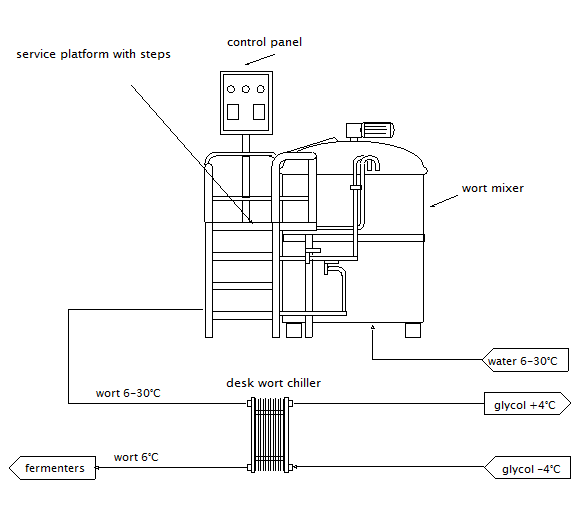 Available sizes of the brewhouses BREWORX LITE WC
Microbreweries Breworx Lite WC are supplied on the brew volume 1.5 HL – HL 40. Total annual production of the microbrewery depends on the brewing schedule, number and type of fermentation and maturation tanks, number and type of serving tanks, the selected range of beers and other parameters.