CIDERLINE PROFI | Industrial lines for the professional cider production
Built-in lines for the production of cider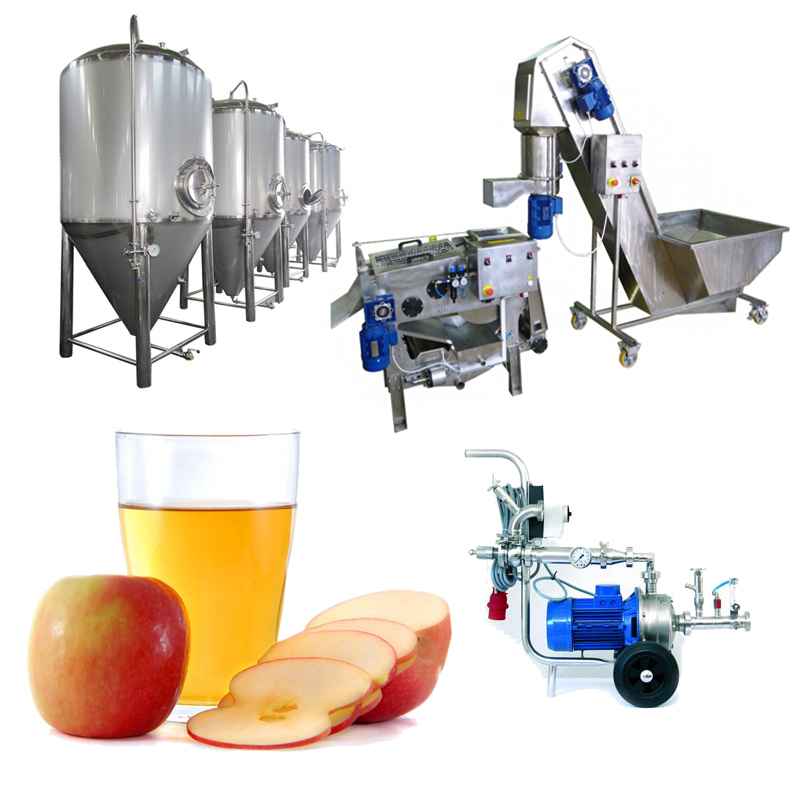 CIDERLINE PROFI – Complete professional production lines for the production of cider whose installation and start up requires the work of an expert team. The technology is firmly connected with the building structure. It enables higher productivity and greater production volumes than the line CIDERLINE MODULO. It includes professional high-performance equipment for the fruit processing, fully controlled fermentation and beverage packaging.

Technology of the CiderLine Profi beverage prodction lines includes in one balanced assembly all devices that are needed for a professional production of low-alcoholic fruit drinks, known as the cider. They enable to produce not only true cider from apples, but there is no problem to produce experimental fruit drinks from most kinds of fruits from forest and garden (currants, plums, pears, raspberries, apricots, peaches, etc.)
Block scheme of the CIDERLINE PROFI:
1. Preparation of fruit must: 1.1 Fruit sorting , 1.2 Fruit rinsing and crushing, 1.3 Belt press for pressing of crushed fruit, 1.4 Mobile fruit mash pump , 2. Fermentation and maturation of cider: 2.1 – 2.7 Fermentation and maturate tanks (CCT) , 3. Preparation of finished cider : 3.1 – 3.3* Cider serving tanks, 4.1 CIP – the tanks sanitizing equipment, 5.1 Yeast regeneration and storage tank, 6.1 Flotation machine*, 7.1 Air Compressor with carbon filters, 7.2 Oxygenation stone for start of the fermentation, 7.3* Nitrogen generator / CO2 cylinders, 8.1 Cooling and heating unit, 9.1* Filtration of cider, 10. Bottling and selling of cider: 10.1 * Rinsing of kegs and filling of cider into kegs, 10.2 * Distribution and sale of cider in packaging 10.3 *Dispensing the cider.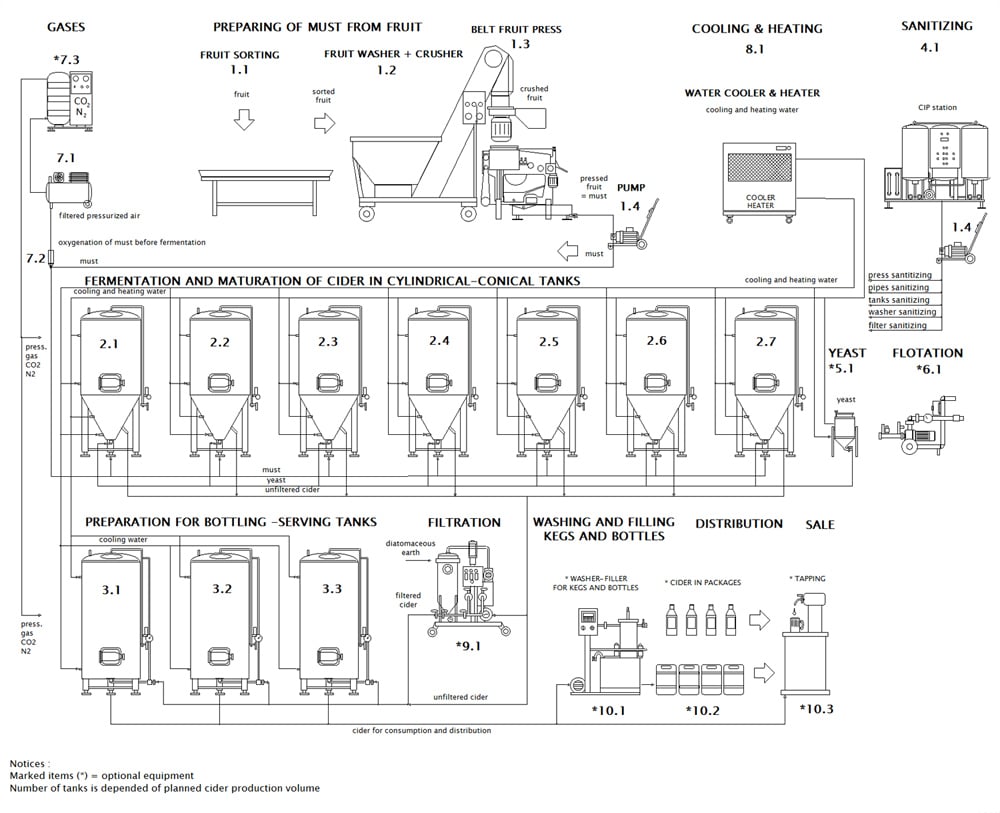 ---
BEERCIDERLINE PROFI – Combi professional production line for beer and cider
Besides specialized production lines we also make production lines for two types of alcoholic drinks – beer and cider. A cider production line combined with a brewery is a very effective usage of production technology, which allows with a minimal purchase cost to meet the public demand after two refreshing drink. While beer satisfies mainly traditional consumers, cider is appealing to customers who prefer fruit flavours and refreshing to energetic alcoholic beverages.
---