Complete fermentation sets  CT1 : One-cooler to one-tank
that are equipped with one classical cylindrical-conical tank and one dedicated compact cooler with the digital temperature regulation system.
Example set CFS:
The complete beer fermentation set CFSCT1-1xCCT1000C includes all equipment necessary for professional production of beer using the fermentation and maturation process from wort produced before by the brewhouse. This set is also designed for production of cider from fruit or carbonated wine.
The complete fermentation set CFSCT1-1xCCT1000C consists of :
1 pc of classical insulated cylindrical-conical tank 1000 liters with two interconnected cooling zones

 the pressure (optionally non-pressure) vessel for fermentation and maturation of beer (cider, wine)
both zones are cooled together, not independently (we can supply the upgrade for cooling two zones independently – for surcharge)

Compact water/glycol chiller with two digital temperature regulators, two temperature sensors, pump, cooler and heater.
Hoses and fittings to connection between cooler and tank.
Installation manual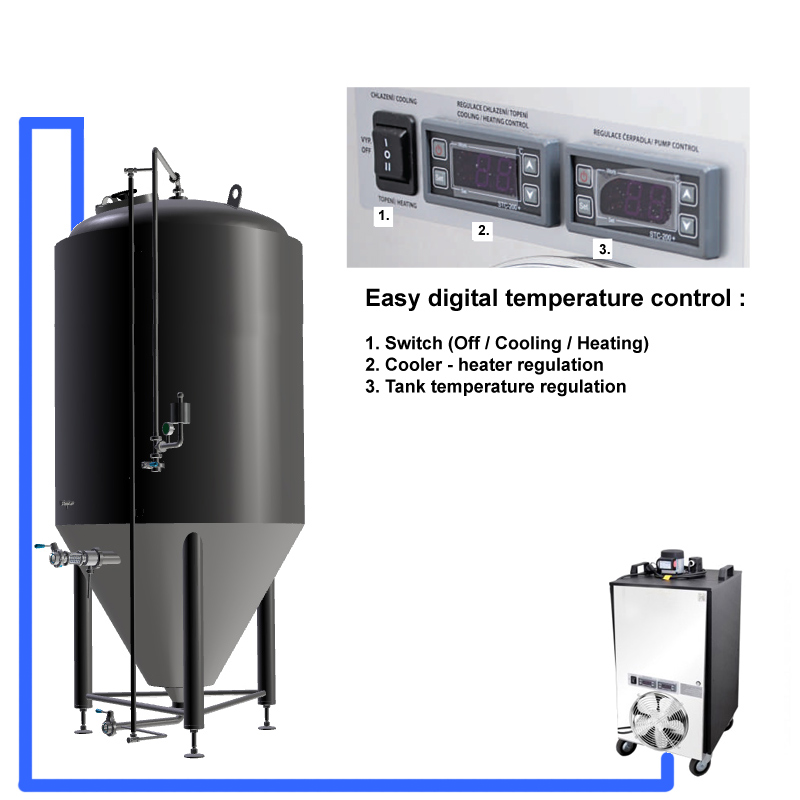 We offer these complete fermentation sets with one tank and one cooler :