Serving tanks, Bright beer tanks, Storage tanks
– serving pressure vessels for storage of drink and filling of drink into the kegs and bottles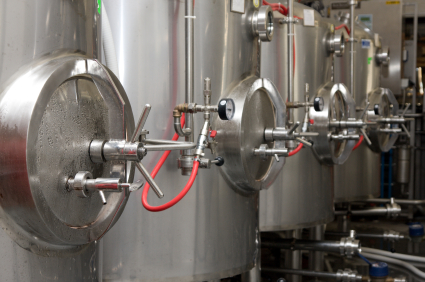 After completion of the maturing phase of production in maturing tanks or cylindrical-conical tanks ( depending on the selected fermentation technology ) the beer is tapped into the serving tanks. Service tanks (storage tanks), also called bright beer tanks, are the containers structurally identical to maturing tanks.
Their typical feature is the certification for pressure 3.0 bar , since for their main function, which is filling the transport packaging ( kegs, bottles ) and draught beer ( in the adjacent restaurant ), it is necessary to keep beer under a higher pressure than is used in maturing tanks.
Serving tanks / Bright beer tanks that are manufactured and supplied for our breweries and cider houses are designed as "combi-serving tanks".  This means that these containers allow for both filling and bottling of beer or cider, and their maturation in lager cellar. These combi-service tanks are the same parameters as the maturing tanks, but always are designed for max. 3.0 bar overpressure and are individually tested by PED qualified personnel. Therefore, they are pressure vessels according to PED (Directive 97/23 / EC).
Optionally we can produce the pressure equipment according to the conditions and standards of ASME, GOST-R or GUM certification rules. In this case, we charge an extra surcharge for the special certification :
PED certification … is included in the price
ASME certification … surcharge 10%
GUM certification … surcharge 5% – We ensure all necessary technical equipment of the tank (GUM compliant), a customer pays and handles the certification process for the tank on site.
GOST-R certification … surcharge 10%
It means that any maturing tank can also be used as a serving one and vice versa. This solution simplifies and accelerates the process of beer production because it is not necessary to pump beer from storage tanks to service tanks but simply by increasing the  pressure in the maturing tank we can change its service  in a few seconds without other interventions.
Function of the bright beer tank is gaining its importance especially in breweries, from which the beer is filtered and subsequently distributed in bottles and transported in barrels to other restaurants or to sale networks . After completion of maturation , the beer is filtered and subsequently tapped into serving tanks.
Here the beer is left to calm down, for several hours or days , without further intervention . From the serving tank after increased pressure in the tank it is subsequently  tapped into shipping containers into the contra-pressure, to avoid the loss of the carbon dioxide from the beverage.
We also manufacture service tanks as dedicated containers for bottling and tapping of beer and cider (Bright beer tanks) according to customer's request.  These tanks don´t contain an equipment for the maturation of beer or cider (they can not be used as lagering tanks).
We optionally offer the serving and combi-serving tanks with carbonating candles. This device is often used for additional carbonating of beverages by carbon dioxide – for example in the production of drink cider.
The Guide the four types of pressure bright beer tanks in our offer
We manufacture and supply bright beer tanks in various designes with our microbreweries:
I. Types of bright beer tanks according to the the design of a cooling method:
1. Serving bright beer tanks with single-jacket (air-coolled)
Simple and cheap non-insulated tanks , cooled by cold air. The traditional way of cooling bright beer tanks . The advantage is low cost, but there is also number of disadvantages: high cooling energy demands (it can be affected by the quality of the thermal insulation of walls in the lager cellar) , low comfort of work in the cooled beer storage room.
It is necessary to note that for the brewery cellar with single-shell tanks it is needed to create a cooling box, a room with very good insulation of walls and ceiling and with a refrigerator door. The operating costs of cooling are particularly during the summer months, possibly year-round in tropical areas, significantly higher than the lager cellar with insulated tanks cooled by liquid. These increased costs to the building and operation usually outweigh the savings from buying cheaper technology brewery.
In contrast, the solution is usually advantageous for air cooling Microbrewery what need to create a refrigerated storage area for filled kegs or bottles of beer, and have not a dedicated storage room. In this case, together with the beer for sale are simultaneously cooled also lager tanks.
2.Serving bright beer tanks with double-jacket (liquid cooled)
– more elaborate insulated tanks, cooled by glycol or ice water circulating in the double jacket duplicators. The modern way of cooling a lager cellar, which is standard in modern breweries. Besides the apparent disadvantage of the higher initial cost, these tanks have only advantages: low cost of cooling operation (cooling only beer, not space), low demand at the place of installation (no need to insulate storage cellar, tanks can be in any room), comfortable operation (in the room with tanks is not need to regulate the teperature ). possibility to control temperature in each tank separately. The only suitable solution for automated management system of the brewery.
II. Types of bright beer tanks according to the spatial orientation:
1.Serving bright beer tanks vertical
– tanks in a brewery are "standing". Easy for cleaning and sanitation and there is also easy access to the tanks from all sides. The disadvantage is the space requirement both in height and in the area of beer cellar. Vertical bright beer tanks are standard in modern breweries and this concept is preferred where small space is no fundamental limitation.
2. Serving bright beer tanks horizontal
The advantage is saving place. In the same area we can place a greater number of tanks, if they are arranged in the battery, i.e. several rows one above another. The disadvantage is the difficult cleaning and sanitation of the tanks stored too low or too high. Battery tanks are difficult to clean from outside – in inaccessible surfaces of tanks organic contaminants may accumulate and contaminate the produced beer.
Price list and description of serving tanks – four variants :

---