CIP | cleaning and sanitizing stations

CIP STATION – cleaning and sanitation of the brewery equipment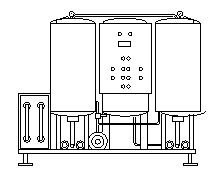 Sanitation station (CIP  station) for perfect cleaning of all machinery and piping in the microbrewery systems that come into contact with the media and products. Without this device a production line cannot be operated in any brewery or cideria.
Clean-in-place (CIP) is a method of cleaning the interior surfaces of pipes, beer production vessels, process equipment, filters and associated fittings, without disassembly.
We produce very practical equipment to maintain the brewing vessels and pipeline routes in a clean and sterile condition.
Description of the cleaning-sanitizing cycle

The cleaning-sanitizing cycle usually consists of these steps :
Pre-rinse  – rinsing of the production equipment using cold or hot water.
Cleaning – cleaning of the production equipment using  circulating hot water.
Rinse – thorough rinsing of the production equipment using cold or hot water.
Chemical disinfection (sanitation) – washing of technology using alkaline and then acidic sanitizing solution at the desired concentration.
Rinse – thorough rinsing of the production equipment using cold or hot water.
Neutralization –  is performed after the finish of several cleaning and sanitizing cycles – mixing alkaline and then acidic sanitizing solution to achieve neutral pH of the solution and their discharge to the channel.

Why use the CIP to cleaning and sanitizing of the brewery equipment ?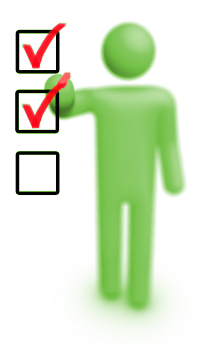 Advantages our CIP stations compared to the simple cleaning and sanitation technology with a pump:
Saving preparatory work: sanitizing solutions are always prepared in the CIP containers and they are available in the desired dilution for several cleaning and sanitizing cycles. Their preparation before each cleaning and sanitizing cycle is not needed.
Increasing work safety: Limiting the frequency of sanitizing solution preparation reduces the likelihood of burns the operator when handling concentrated acids and alkalis.
Saving of time and energy for cleaning and sanitizing: Continuous heating of cleaning and sanitizing solution during the cleaning and sanitizing cycles and keeping them at a prescribed temperature increase considerably the efficiency of cleaning and sanitation, resulting in time saving service of the equipment and electricity – cleaning process and pump operations take significantly less time.
High efficiency of cleaning and sanitation: Compared with the sanitizing by simple circulation pump there is still the same temperature of the sanitizing solution during full CIP cycle, if the CIP unit is used for this operation. Cleaning and sanitization by hot solutions is definitely more effective than the same proces arranged with cold solutions, and therefore, vessels and equipment are perfectly clean after sanitizing and washing cycle and they are also free of organic and other impurities, which is in the brewing operation, an essential condition for the hygienic requirements.
Simple neutralization of acids and alkalis after use: Neutralizing vessel (part of the CIP station) allows easy, safely and completely neutralize the used acidic and alkaline sanitizing solution before pouring into the channel. It fully meets the requirements of laws to protect the environment and prevents damage to sewerage systems and other building components. Furthermore, this increases the safety when handling used washing and sanitization solution.
---
We offer the CIP station in two designes :
I. Mobile CIP station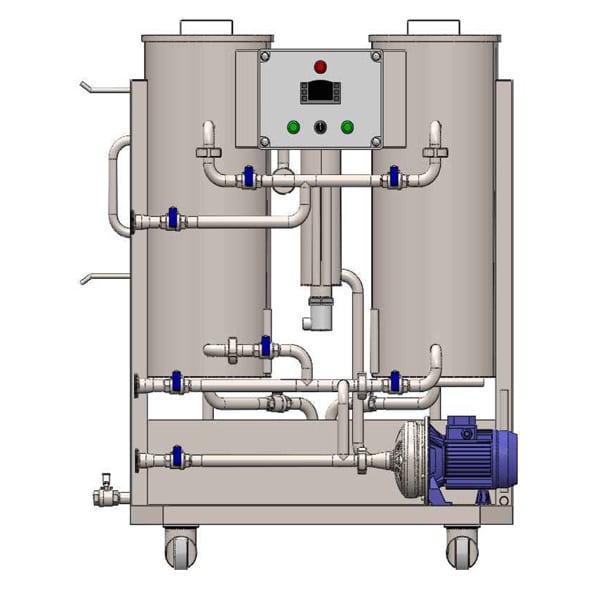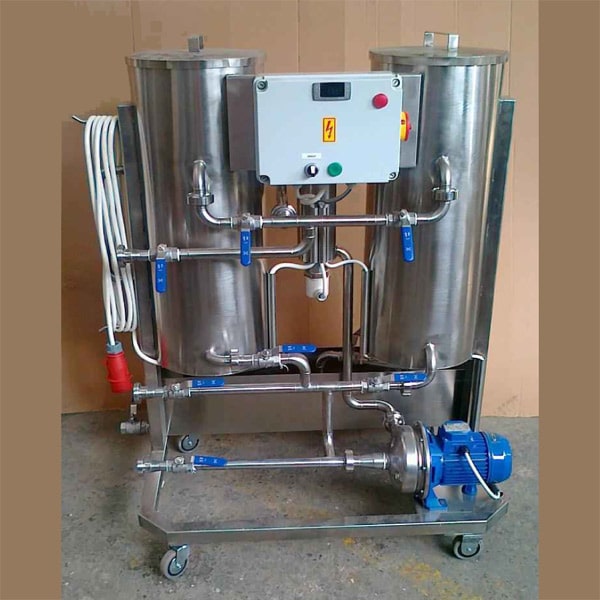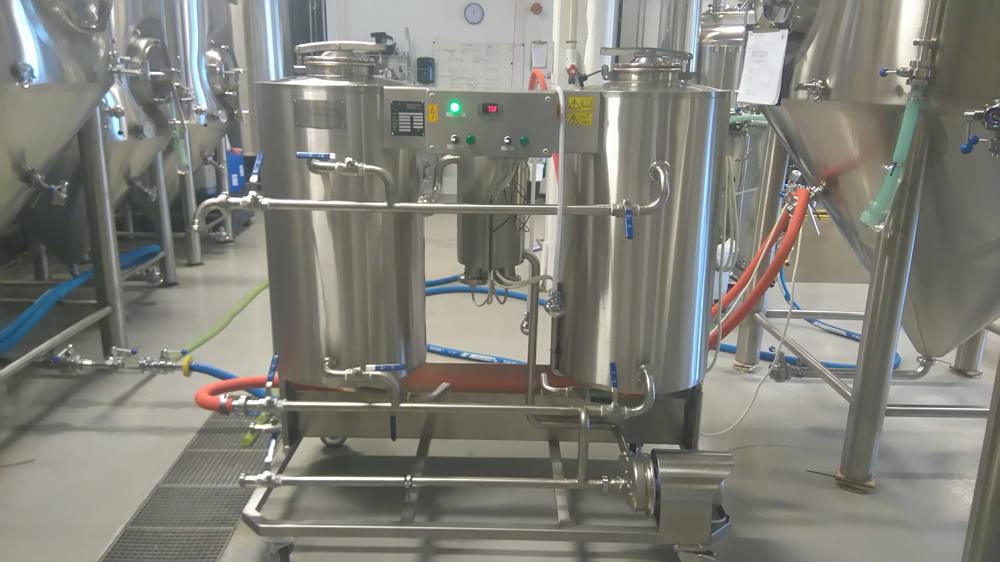 Compact mobile CIP station allows an easy transport of sanitation and cleaning solutions through all tanks and pipe routes of the brewery, heating, dosing, circulation of the sanitizing solutions and their a final neutralization. We are produced it in three volumes from 50 to 200 liters per one container. The mobile CIP contain these parts:
Tank with acidic sanitizing solution
Tank with basic sanitation solution
Neutralizing tank – for neutralization of both sanitizing solutions after their contamination before discharge
The heating chamber – for warm-water and sanitation solutions
Sanitary pump – to circulate the sanitizing solutions through vessels and piping routes
Control panel – controls all functions of the CIP station
Support frame with four traveling wheels
---
II. Static CIP station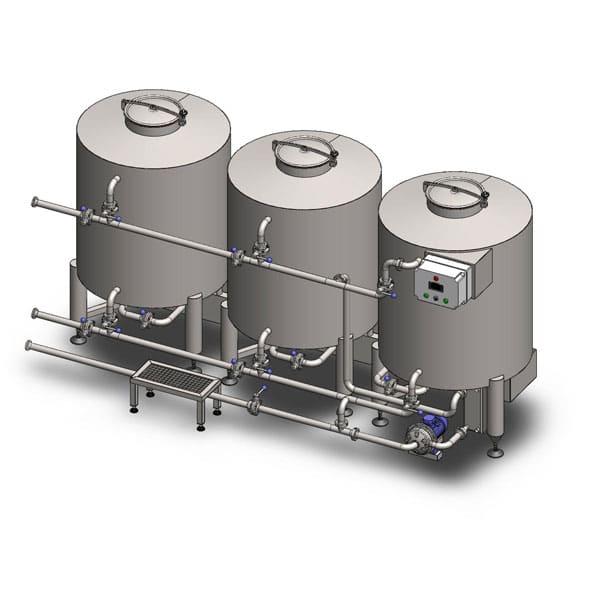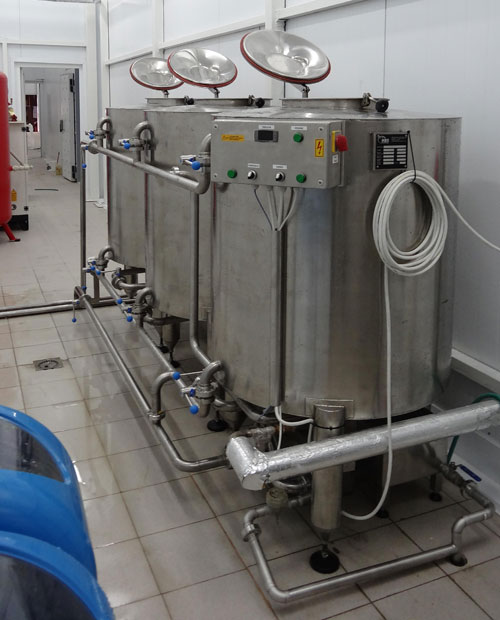 Static CIP – fixed on selected place on the brewery, with big volume containers (500 liters and above). This CIP serves only to preparing and collecting the sanitizing solution, and pumping of them to remote tanks and routes used movable hoses. They are equipped also with a temperature recovery hot water tank for storaging of used hot water for more cleaning cycles. It contains parts:
Tank with acidic sanitizing solution
Tank with basic sanitation solution
Tank with hot water – for heat recovery and storaging of used hot water for next cleaning cycles
Neutralizing tank – for neutralization of both sanitizing solutions after their contamination before discharge
The heating chamber – for warm-water and sanitation solutions
Sanitary pump – to circulate the sanitizing solutions through vessels and piping routes
Control panel – controls all functions of the CIP station
Set of hoses for cleaning and sanitizing of remote devices
Support frame with four traveling wheels
Electrocabinet
---
We offer these  CIP stations for small breweries (example models) :
Scheme and usage of the CIP type I (mobile CIP station)