Microbreweries BREWORX LITE – a simplified beer production from concentrates
Wort production (intermediate in the production of beer, resulting from the brewing process) from the classic raw materials i.e. malt, hops, is an expression of respect for the tradition of brewing. However, there are significant demands on salary, years of experience and knowledge of the brewer, the energy intensity of the production process, ensured regular supply of fresh ingredients, their safe storage in dry and ventilated warehouse without access to rodents and insects. The brewery operators often fail to maintain consistency in the quality of the final product, as the sensory properties of beer are strongly dependent on many parameters. These include properties of currently purchased malt (friability, attainable degree of fermentation extract, malt extract relative, Kolbach number, amount of protein, diastatic cardinality) and hops (alpha and beta acids, essential oil content, polyphenols), changes of the chemical composition of water, exact compliance with the prescribed recipe for each batch brewed by brewer, etc.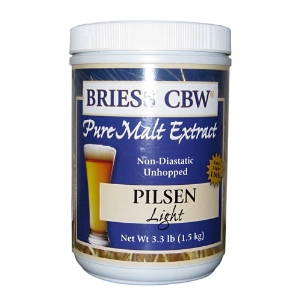 The ability to achieve for the majority of consumers unobservable differences in the quality of beer throughout the operation of the brewery belongs to art of the best brewers, and even they with all the efforts and experience despite sometimes fail and the batch must be discarded to avoid loss of reputation of beer among customers, or in the worst case for sanctions, by the competent control authority.
Not every owner of a small brewery can afford to hire quality people, on the other hand it is not easy to have full control over the work of the brewer. Risking the loss of reputation can be very expensive – one disappointed customer usually means a lost customer and to get rid of the bad business sticker is practicaly impossible even in the long term.
Therefore, many brewers prefer to prepare wort in more simple way, from the beer concentrates. They are basically food preparations for easier preparation of wort, whose common features are easy storing, simple and fast preparation of wort by skiping through difficult phases of the brewing process, low energy requirements, high stability of the quality of the final product. All this is without a noticeable difference in sensory characteristics of beer produced by this way compared with traditional methods of preparation of wort from traditional ingredients.
For easy and rapid production of wort from "beer" concentrates are optimized our microbrewery in a series of BREWORX LITE.
 Offered series Microbrewery BREWORX LITE:
A microbrewery with simplified brewhouse, able to brew  beer from wort concentrate  or malt extract. This brewhouse is not able to brew beer from traditional materials like malt, hops and water. Design of brewhouse BREWORX LITE ME is almost identical to the design of brewhouse BREWORX CLASSIC – the microbrewery is suitable for industrial and interior locations.
Why chose a Microbrewery BREWORX LITE
Simple manufacturing process allows to hire less qualified brewer – saving salary costs and less dependence on qualified employees
Less concern with the supply of raw materials – with atmosphere packaging the bags with concentrate can be more easily transported and stored, even for a period up to 12 months – saving a lot of ordered raw materials.
Shorter process of brewing allows the production up to 10 batches of wort in 24 hours – an increase of brewing performance, needs a smaller number of large volume tanks – saving space for the brewery and the brewing basement.
Price of simplified brewhouse is significantly lower than the price of "regular brewhouse" for production of wort from traditional ingredients
Lower number of components in the brewery – more space savings and cost for investment.
Significantly lower power consumption in the production of wort – operational savings. For easy and fast production of wort from "beer" concentrates, our brewhouses from series Hardbeer LiteME and LiteWC are optimized.

---
CONTROL SYSTEM FOR BREWERY BREWORX LITE
A manual control of a brewhouse, simple push-button control panel with basic control and sensing elements. Manually adjusted pipeline routes, switching of motors and pumps, temperature and times are watched by the brewer .
A centrally-manually operated brewhouse with support of PLC with most operations controlled from central control panel with controls and sensing elements. The panel is designed as a touchscreen or mechanical switches and controllers – from there motors, heating and setting routes are centrally controlled.
An semi-automatically controlled brewhouse – with most computer- controlled operations – according to the specifications from a central control panel. The control panel is designed as a touchscreen. The brewer selects the recipe and starts the program that controls the production process. The brewer controls it and performs laboratory tests, treats abnormal conditions and ensures the preparation and the brewing of raw materials for the process.
---