Microbreweries in industrial design are primarily for medium-large volume of beer production. The main emphasis is on maximum functionality and efficiency of production, personnel safety and economy operation. It successfully compete with large breweries.
Industrial microbreweries and breweries BREWORX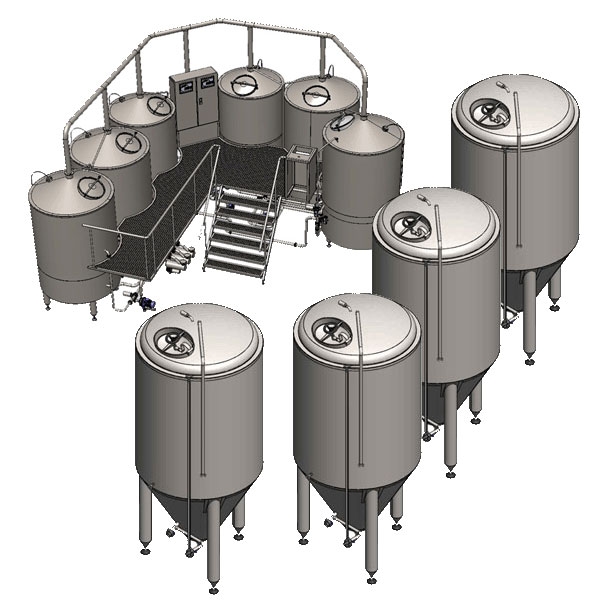 Beer production in larger volumes primarily makes high demands on production efficiency. First priorities of brewers are:
Low rates of energy consumption
Minimising water consumption
Reduction of the number of employees to the minimum necessary
Minimize the number of operations at each operation
Efficient use of space technology for location
Maximizing daily production
These requirements have ceased minibreweries classic restaurant types suits because their design is greatly influenced by the requirement, at the expense of production efficiency. Therefore, customers who are thinking about beer production mainly for external customers, for distribution to the market, but also for larger restaurant facilities (stadiums, large recreational facilities,  catering companies owned by a single owner), is designed  special type of minibrewery. Especially demanding requirements of industrial beer production.
The optimal solution microbrewery with a larger production volume from 25,000 to 200,000 hectoliters of beer per year.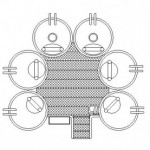 Modern six vesells brewhouse integrated on a common frame, clearly operated from one central platform. Effective solution brewery for those who the production of beer is serious and on top of the list of priorities for them maximum production performance and the highest possible efficiency of production. Solution brewhouse allows continuous production of 4 batches of beer simultaneously, since each production stage of brewing process takes place in a separate vessel. It is  possible to produce up to 6 batches of wort in 24 hours in a continuous manufacturing process. With advanced management system with the support of the brewery computers are all required measuring and controls available not only on the control panel of the Brewhouse, but also at the remote terminal. The production manager and brewmaster have  manufacturing process constantly under control.  Fermentation and maturation of beer in sealed cylindrical-conical tanks or in open fermentation tubs allows the production of bottom or top fermented beers, either in traditional or modern way. The ability of precisely controling fermentation and maturation leads to permanent results of constant quality and sensory characteristics of beer.
Optimized solution of larger brewery with production 100,000 hectoliters of beer per year. The basis of the minibrewery is eight vessels brewhouse, consisting of a mash tun, mash boiler, wort collector, lauter tun, kettle, whirlpool, hot water tank and cold water tank. Allows continuous production, where in each of the six  vessels runs simultaneously different phase of brewing process – so it is possible to brew up to 10 batches of wort per day. Production line brewery BREWORX Industry is made from stainless steel for food industry, with high quality without unnecessary design elements. It is equipped with a central service platform for easy operation and process control. The main function of the brewery BREWORX Industry is the most efficient production of quality beer in large quantities and with minimum demands on labor intensive.