7th solution: FUIC Compact Fermentation Unit
7th innovation: FUIC – Compact unit for pre-production samples of new beverages
… but also a credible alternative to conventional fermentation and maturation cylindrical-conical tanks
BREWORX FUIC (Fermentation Unit with Independent Cooler) is a compact unit developed primarily to meet the requirements of small breweries which need to test new beers' recipes. Cylindrical-conical tanks are fully equipped and together with sophisticated cooling system is FUIC ideal to replace the classic self-standing CCTs and storage tanks. Brewery extension and thus increase in the production capacity of the brewery is quick and easy with units FUIC.
Experiment with production of new beverage types with reasonable expenditure and little risk.

Increase the production capacity of the brewery easily and immediately… without additional expenses.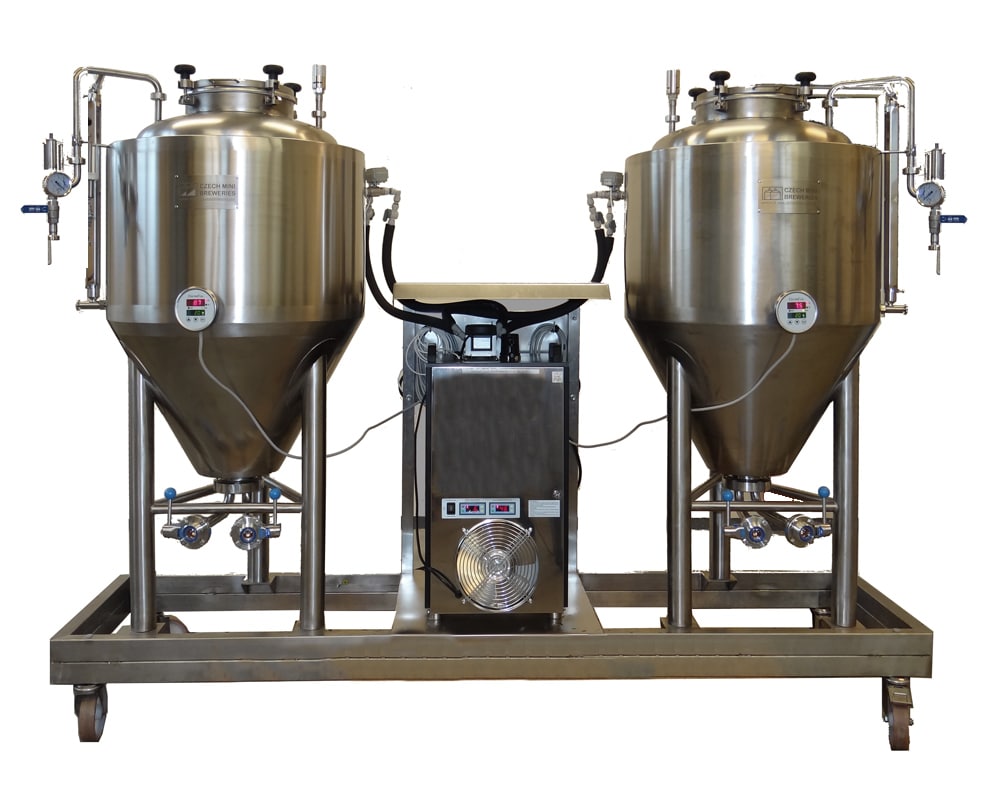 Commissioning of each FUIC unit is a snap, no construction and installation works, no building or expanding an existing cooling system.
FUIC is constructed as simple machine – Plug & Brew equipment.
---
What is the FUIC unit suitable for ?
I. Laboratory preparation of samples – new beer types testing
Running a brewery or microbrewery and want to expand your portfolio of beverages with new types of beer? Maybe you hesitate if it is not risky to fill the entire fermentation tank with new beer type. There is always a risk that a new beer won't be perfect for the first time or will simply take longer time to find customers.
Every winemaker tries new varieties of wine firstly in small samples. Rational brewer should also not brew 4,000 liters of new kind of beer without reviewing its taste and interest of customers at first.
Just for this purpose, a sample testing of new types of beverages, we have primarily developed this device – FUIC – compact fermentation unit with independent cooling system.
II. Quick and easy extension of the brewery's production capacity without additional investment
If you plan to increase the existing capacity of the small brewery, then FUIC is very practical alternative to the standard production capacity expansion procedure. Adding more standard fermentation and maturation containers (for example cylindrical-conical fermenters, open fermentation vats, cylindrical fermentation tanks, maturation tanks) require additional investments :
project work
construction preparation
increase of the capacity of cooling system
installation work
electrical work
cool-storage work
additional material and labour
The expand of the brewery capacity using FUIC units is incomparably easier compared to conventional approach. We deliver FUIC unit, the customer takes it on wheels to the required location, plug the power cord into a standard electrical outlet (depending on model 230V or 400V) and can immediately use tanks – both for fermentation and maturation of beverages.
---
Check the FUIC unit (FUIC-CHP1C-2x150CCT) video:
---
What the FUIC unit consists of?
1 or 2 pcs (or optionally 3 or 4 pcs) fully equipped insulated cylindrical-conical tanks cooled by liquid (water, glycol in duplicators, equipped with all fittings and valves necessary for the main fermentation and maturation (sanitable level indicator, relief and double-acting valve, sampling valve, sanitable rotary spray ball, valves for filling and draining beer and yeast). CCTs are equipped with one or two independent cooling zones – based on the size of tanks and customer requirements.
Compact water cooler of appropriate performance (for tanks of larger volumes we use several coolers). Water (up to 1° C) or glycol (up to -4° C) is used as coolant. The cooler is equipped with electronic control and a pump that turns off when none of the tanks currently require cooling. The cooler is also equipped with ice water (or glycol) storage. If a coolant is cooled to required temperature, the coolant compressor shuts off automatically. Thus cooler does not work permanently, but only when it is necessary.
Digital thermostats for precise temperature measurement and control independently in each cooling zone of CCTs displays the current and required temperature. On special customer request we equip FUIC unit with programmable electronic system with temperature schedule up to 100 days
Supporting frame with transporting wheels (optionally delivered with screw-on feet instead of wheels) with adjustable height. On the frame there are attached CCT(s), cooler(s) and wiring. Practical stainless steel lid protects the top of compact cooler from dripping water while allowing easy coolant filling.
---
Variable lay-out of FUIC units
In our microbreweries BREWORX MODULO we use a simple modular solution for fermentation and maturation process – FUIC units. FUIC units can be arranged in various ways according to the needs of a particular brewery. Here are few examples of lay-out:
FUIC-CHP1C-1xCCT – Fermentation and maturation unit – cooler + 1 cylindrical-conical tank

FUIC-CHP1C-2xCCT – Fermentation and maturation unit – cooler + 2 cylindrical-conical tanks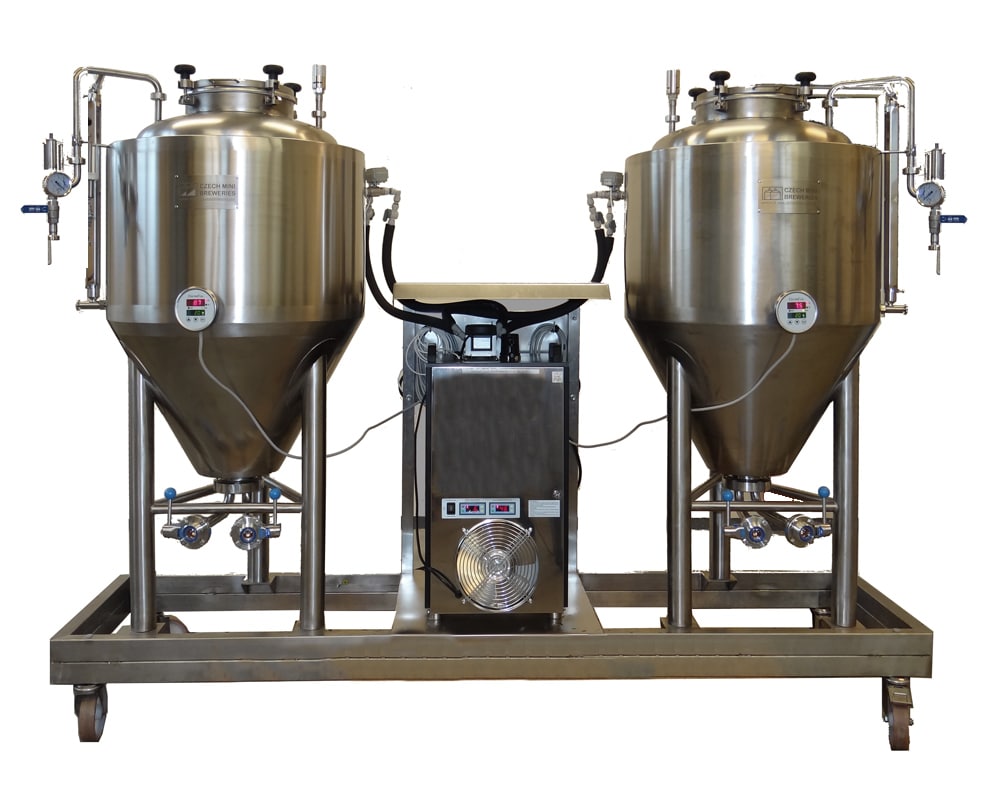 FUIC-CHP1C-3xCCT – Fermentation and maturation unit – cooler + 3 cylindrical-conical tanks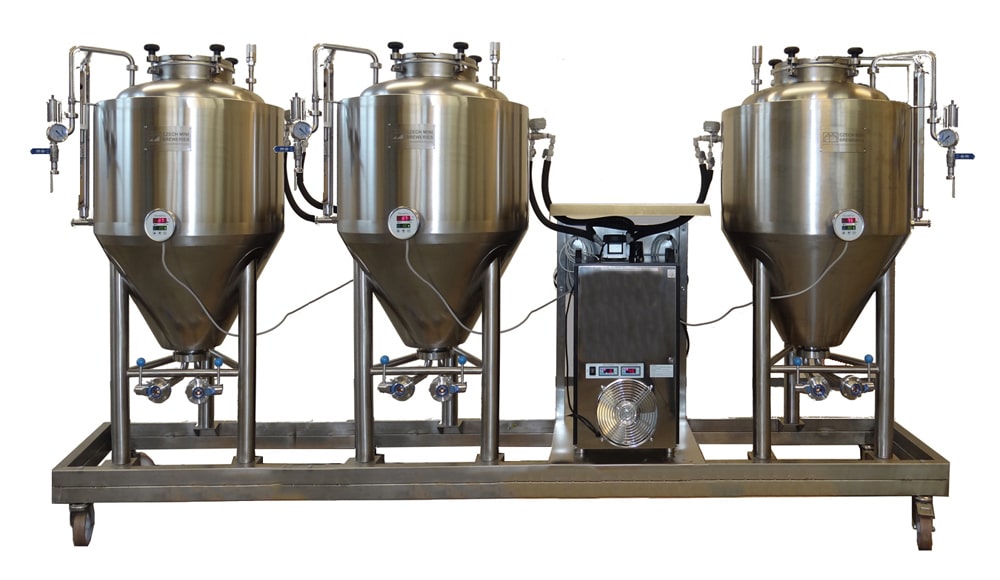 FUIC-CHP1C-3xCCT – Fermentation and maturation unit – cooler + 4 cylindrical-conical tanks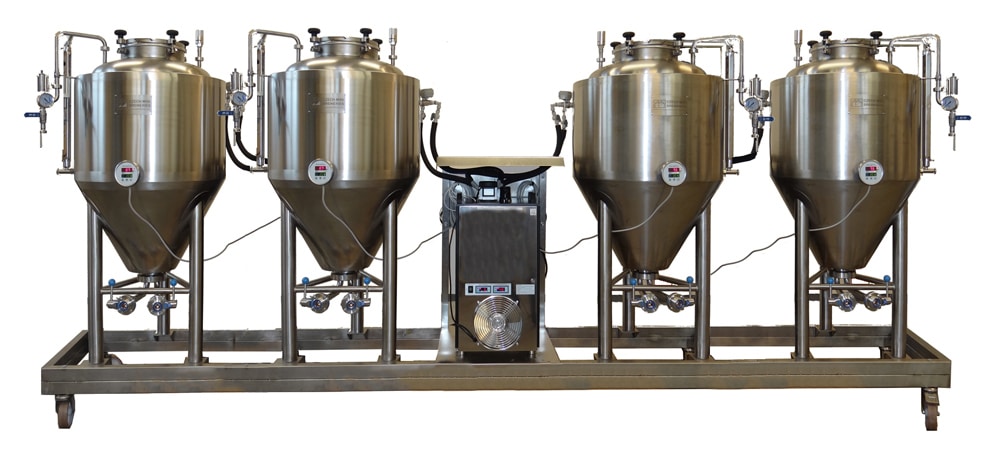 ---
Example integration of FUIC units to the brewery and ciderline MODULO:
… are designed as set of blocks; the brewery consists of a compact independent blocks that are interconnected by hoses.
Use of FUIC units in cider production:
---
your inquiry
---

See also : Some of our good Czech solutions for small breweries :